Spin City – Cycling around Casole d'Elsa, Tuscany
*Photos by Timbers Resorts Owner Jessica Budinger from a fall 2013 cycling trip to Casali di Casole, touring the countryside's most classic routes.
Cycling is as synonymous with Italian culture as food and wine – minus the calories. In fact, there's no better way to offset the indulgences of eating and drinking in Tuscany and still get a taste of the area's rich history than from the seat of a bicycle. Spend a day pedaling through the timeless countryside, where castles and walled medieval villages can be found surrounded by pristine forests, cypress trees, olive groves, river valleys and world renowned vineyards.
With nearby hill towns spaced at almost perfect ten- and twenty-kilometer intervals from Casali di Casole, there are many incredible day rides to choose from. Not only does biking provide a slower pace in which to explore, you'll also be following the footsteps (or tracks) of many famous Italian cyclists who pedaled before you.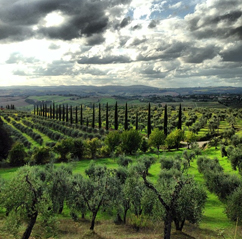 Italy is the home of the Giro d'Italia, a stage race much like the Tour de France that dates back to 1909 when the first race covered over 2,400 kilometers. As part of the Triple Crown of cycling (that also includes the Tour de France and Vuelta d'Espana) it's still one of the largest and most prestigious bike races in the world. Though the course changes every year, stages have careened through the Tuscan hillsides for over a century, where the passion for cycling is as old as the hills. That might be why some of the most celebrated bike manufacturers in the world hail from Italy, including master frame builders like Colnago, DeRossa, Basso, and the one and only Campagnolo, makers of top-of-the-line bicycle components.
Tuscany offers some of the best cycling in Italy with its undulating terrain and moderate climate. Explore the architectural splendor of Volterra with its Roman theatre, piazzas, fortress and cathedral.
Ride through San Gimignano where fourteen medieval towers punctuate a distinctive skyline that can be seen from several miles outside the town. San Gimignano is also famous for its frescoes, churches and palazzos, not to mention exceptional white wines.
Venture to Monteriggioni, one of the classic hill towns of Italy where only 84 inhabitants live behind 13th century retaining walls that remain almost perfectly intact. Inside the fortress there is no traffic, making Monteriggioni an ideal destination for cyclists. If you are interested in touring the countryside by bike, the villa concierges at Casali di Casole can readily assist with arranging bike equipment rentals, suggesting routes, providing maps and/or booking guides.
To learn more about ownership opportunities at Casali di Casole, please contact us at 866.963.5005 (toll free in the US) or via email at

[email protected]

. Or please reach us at +39.0577.967511 (in Europe) or via email at

[email protected]

. For availability and reservations at Hotel Casali di Casole, please contact us at 888.927.2580 (toll free in the US) or +39.0577.961508 (in Europe) or via email at

[email protected]

.