Insights into Italian Wine
The Greeks called Italy "Enotria" (Land of Wine) and it is in the countless Enoteca (wineries) that you will taste the wonder that is wine in Italy. Casali di Casole produces an estate wine, Dodici, which is available only to Owners and guest of the property.
Casali di Casole's bilingual concierges can organize a tour of the property's winery, as well as help with recommended Italian winery tours, wine tasting routes and the better places to stop for lunch. But half the fun in Tuscany is simply setting forth on your own path of discovery.
Italy is home to an astounding 2,000 indigenous grape varietals and the best known is that of Casali's region, Sangiovese. The country is famed for top producers such as Sassicaia and Antinori, and wine styles such as Brunello di Montalcino, Vino Nobile di Montepulciano, Vernaccia di San Gimignano and "Super Tuscans."
Introduced in 1963, DOCG (Denominazione di Origine Controllata e Garantita) refers to the highest classification for Italian wines, denoting controlled (controllata) production methods and guaranteed (garantita) wine quality. There are strict rules governing the production of DOCG wines, most obviously the permitted grape varieties, yield limits, grape ripeness, winemaking procedures and aging specifications. Every DOCG wine is subject to official tasting procedures. To prevent counterfeiting, the bottles have a numbered government seal across the neck.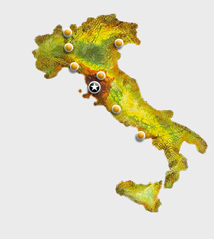 Brunello di Montalcino, Vin Santo, Chianti Classico and Vino Nobile di Montepulciano - all of these mythical wines hail from the same lovely region - Toscana, Tuscany. The principal red grape varietal, responsible for all DOCG reds, is Sangiovese. Sangiovese clones are also used widely. The grape is capable of producing rich red wines with body and depth and is suitable to long oak ageing. Brunello di Montalcino is probably the most sought after example of Sangiovese, with Rosso di Montalcino a close second. Top producers of these excellent wines include: Argiano, Barbi, Casali Banfi and Il Poggione. Montepulciano, a superbly preserved medieval village, produces some delicious red wines, the Vino Nobile, at wineries like Icario where the new and old world collide.
Chianti Classico (the best of the Chiantis; the second best regarded sub region of Chianti being Chianti Rufina), is probably the most famous Italian wine there is. Chianti Classico stretches south from Florence to Siena and is one of the prettiest wine regions in Europe. World class vintages have included 1997 and 1990, with the wines of Badia a Coltibuono (a perfect destination for a visit and terrace lunch), Marchesi Antinori (also famous for Super Tuscans "Tignanello" and Cabernet dominated "Solaia") and another Antinori Lodovica with his "Ornellaia" and "Masseto." And Casali di Volpaia (a world class winery located in the gorgeous hamlet of Volpaia), being some of the most prestigious and well-respected.
"Super Tuscans" are wines that have not been allowed to receive DOCG status as they have been made with "non traditional grapes," namely Cabernet Sauvignon and Merlot. The DOCG designation has not limited the ambition or result of vineyards, who have produced exceptional varietals, including Petra, Massa Vecchia, Erik Banti and Tua Rita.
To immerse yourself in the Italian world of wine, visit Casali di Casole. To join us as a guest at Hotel Casali di Casole, please contact us at 866.917.2152 or +39.0577.961508 or via email, [email protected]. To learn more about ownership at Casali di Casole, please contact us via email, [email protected] or [email protected].