It's hard not to get inspired while staying at Casali di Casole (envision breathtaking architecture, rolling hills and lush colors at this Tuscan countryside estate).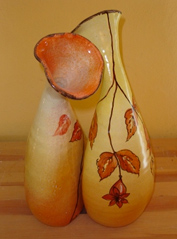 If anyone knows how truly inspirational the area is, it's local artist Eva Munarin. It was on holiday in Montelupo Fiorentino (one of the most famous ceramics towns in Tuscany) that she decided to put down roots and study pottery at the Scuola di Ceramica di Montelupo Fiorentino. Eva's ceramic training is strongly tied to the Florentine Renaissance tradition. She creates her hand-decorated ceramics with an artisan procedure that utilizes various styles such as the historic "Majolica" technique, which results in characteristic lines and dots indicative to the firing process.
Thankfully, her love affair with Tuscany didn't end there. Years later, Munarin's husband was offered a job at Casali di Casole, giving them the amazing opportunity to move onto the estate. It was there that Ms. Munarin opened her first studio with a pottery exhibition in 2006. Owners at Casali di Casole are familiar with Eva from classes she has offered over the years and buying souvenirs and gifts from her boutique.
Though she has since relocated to Mensano, a village she dubs, "one of the most amazing small villages you could find in Tuscany," she speaks fondly of her time on the estate. "Casali di Casole is an absolute dream for me, " says Munarin. "The air is so clean and the landscape is the same as it was 100 years ago. "
Take a page from Ms. Munarin's book and create your own Tuscan inspired art in one of her  watercolor painting or pottery classes -- they're open to Owners and hotel guests of all ages and abilities. Or venture off property to get your creative juices flowing (and sip on a little vino) with an art class/ wine tasting at Camporignano Farm.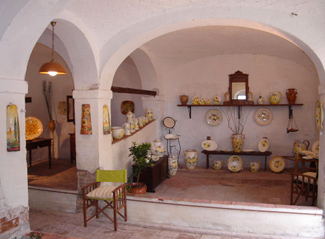 A third option is to venture to her studio in Mensano. Peruse and purchase items from her collection and engage in a friendly tête-à-tête with the artist herself . Though some of her pieces are very traditional using Majolica, the refined, white-glazed pottery of the Italian Renaissance, Ms. Munarin also offers contemporary pieces like metal, glass and ceramic sculptures inspired by "the heart and the fire."
For more information about Eva and her ceramics, please visit: evapottery.eu
To learn more about ownership opportunities at Casali di Casole, please contact us at 866.963.5005 (toll free in the US) or via email at [email protected]. Or please reach us at +39.0577.967511 (in Europe) or via email at [email protected]
For availability and reservations at Hotel Casali di Casole, please contact us at 888.927.2580 (toll free in the US) or +39.0577.961508 (in Europe) or via email at [email protected].