When considering destinations to visit on your next trip to Tuscany, food and wine may be first in your mind, but nature's bounty extends far beyond gastronomy in this part of the world. While there are over 50 game reserves in Siena alone, the Casali di Casole villas in Tuscany have won the coveted "Model Game Reserve" designation thanks to game warden Paolo Bagnoli and his staff of gamekeepers.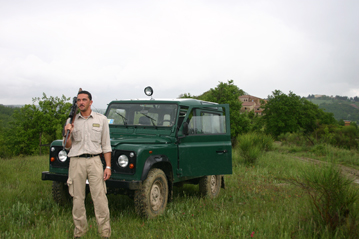 Animals aren't new to the land surrounding Casali di Casole - in the 1800s, the wealthy Bargagli family farmed livestock on the premises. Two centuries later, the property's 1730-acre game reserve has been deemed one of the Top 5 reserves in Siena, and the caretakers oversee a large population of animals including pheasant, deer, rabbits, and boar. The "Top 5" designation is due to the number of healthy species currently living on the property, and makes stays at both the hotel and farmhouses feel even more unique and unspoiled.
While Casali di Casole offers a variety of diversions from spa treatments to fine dining, the property's game reserve is a rare attraction and is not to be missed. To book a tour to view animals in the reserve's beautiful habitat during your visit, contact the hotel's concierge at [email protected]. While guest hunting is not permitted (due to strict hunting license limits in the area), Owners and guests can arrange to accompany keepers on their daily rounds. Scenic observation towers provide panoramic vistas of the property and landscapes during your preserve journey.
You'll likely see wild hares, pheasant, deer, foxes, and the repugnant wild boar, known in Italian as cinghiale.
To learn more about ownership opportunities at Casali di Casole, please contact us at 866.963.5005 (toll free in the US) or via email at [email protected]. Or please reach us at +39.0577.967511 (in Europe) or via email at [email protected]. For availability and reservations at Hotel Casali di Casole, please contact us at 888.927.2580 (toll free in the US) or +39.0577.961501 (in Europe) or via email at [email protected].