Every year on July 2 and August 16, the beautiful medieval city of Siena, just 20 minutes by car from Casali di Casole, comes alive for one of the world's most breathtaking folk festivals, Il Palio (the horse race). Known around the globe as a unique equestrian event, to the Sienese, Il Palio has a much deeper significance.
Preparations go on all year long in this special Tuscan city, whose seventeen neighborhoods invest every spare Euro and every waking moment in their efforts to win. The evening before the race it is estimated that 25,000 people feast in groups outdoors, as each contrada (neighborhood) stages a sumptuous banquet to rehearse their anticipated victory celebration. On the morning of the race, each horse is led into the contrada church to be blessed.
After this most solemn event, the city literally erupts, as excited citizens flock to the beautiful shell-shaped Piazza del Campo. Approximately 50,000 people file into the middle of the square, while a few thousand fortunate souls take their reserved seats on bleachers and terraces in front of the 15th-century palazzi (palaces) that line the perimeter. Residents of these grand apartments will rent their homes for the Palio races every year, commanding grand sums for a bird's eye view of the action.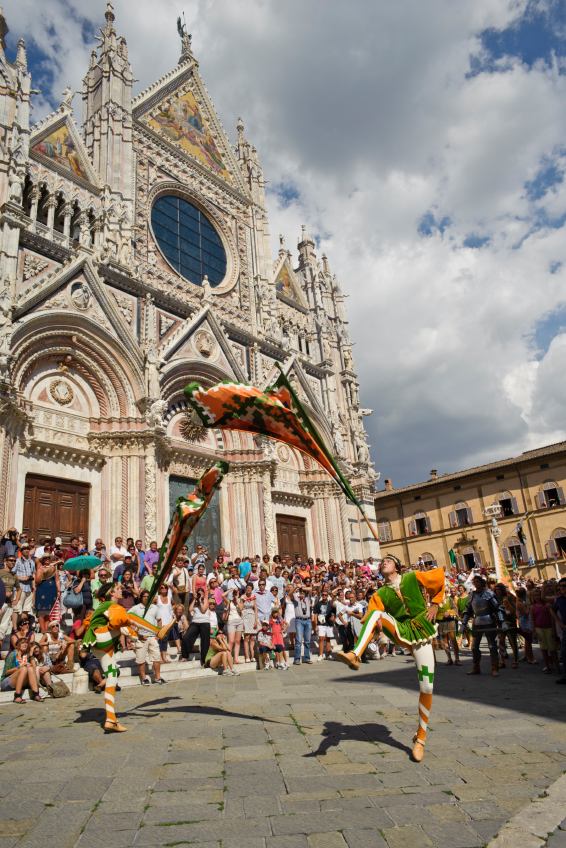 The festivities begin with a parade that stretches well into the day. Later, as the horses and jockeys arrive, each pair is passionately hailed by the denizens of its contrada. Within moments of  the race, the jockeys prepare to line up their mounts behind the rope, which marks the tenuous starting gate. They strategically take their time as they plot to crush their patrons' enemies. When at last the judge lowers his arm, they tear off around the track at breakneck speed. Occasionally, in the pandemonium, a jockey will be unhorsed and run to avoid being trampled. According to tradition and the long-standing rules, the first horse to cross the finish line will win, with or without a rider.
For those staying at Casali di Casole and interested in Il Palio di Siena, the villa concierges are available to arrange transfers, tickets and an array of access levels to enjoy either race this summer. Please note advance notice is required to confirm ticket availability.
To learn more about ownership opportunities at Casali di Casole, please contact us at 866.963.5005 (toll free in the US) or via email at

[email protected]

. Or please reach us at +39.0577.967511 (in Europe) or via email at

[email protected]

. For availability and reservations at Hotel Casali di Casole, please contact us at 888.927.2580 (toll free in the US) or +39.0577.961508 (in Europe) or via email at

[email protected]

.